>

Cuisine / Hot Spring and spa
Cuisine

We provide you Kaiseki style meal made with seasonal ingredients and artistically presented by our chef.
You can enjoy breakfast and dinner in the private dining room.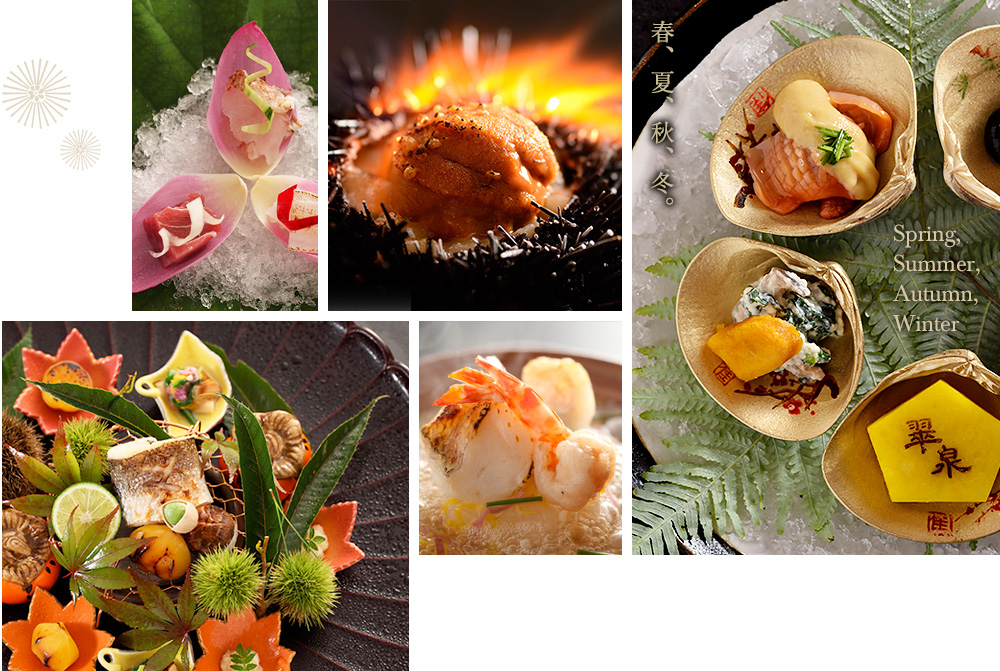 We find and source the best ingredients possible especially from our local area to serve you the best food. All the meals are provided in the private dining room. A wide variety of drinks that goes well with Japanese food is selected by our head chef. Please enjoy the great marriage of drink and meal.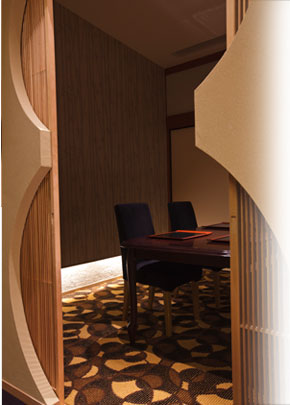 The private dining room promises you peaceful and luxury time.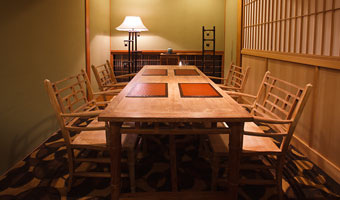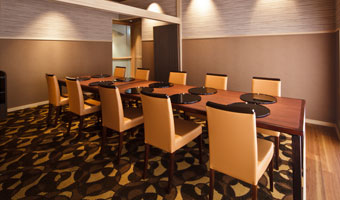 Hot Spring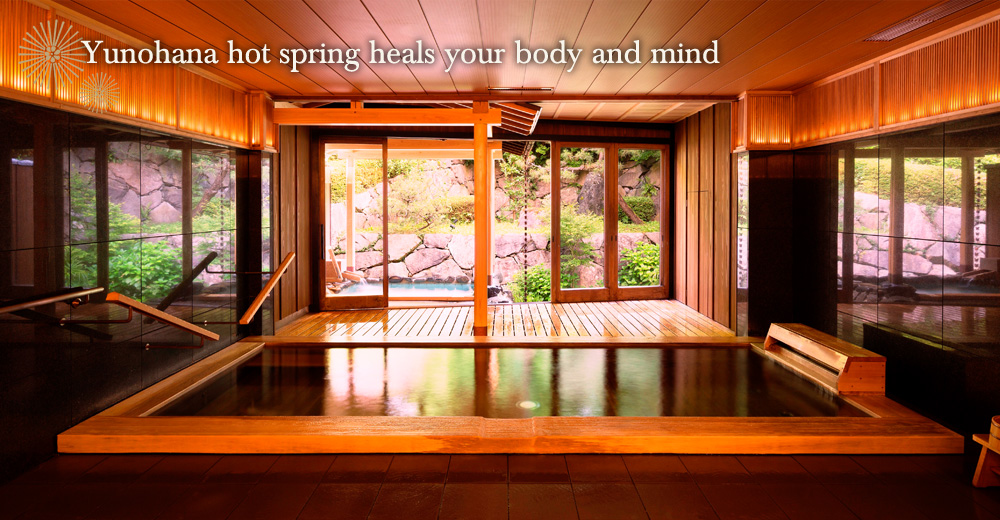 You can enjoy soaking in the hot spring bath while savoring the nature. Legend has it that federal warlords visited Yunohana hot spring to heal their wounds in the Warring States period of Japanese history. Many people still visit this well-known hot spring from all over the country.
Women

Men

Private bath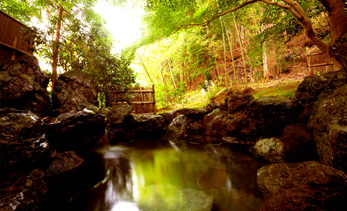 Enjoy the change of seasons while indulging in the stone-craft open-air bath. No amenity such as body soap or shampoo is available. You can only use a shower here.
(2,000 yen for 50 minutes. Tax excluded)
| | |
| --- | --- |
| Hot spring name | Yunohana Hot Spring |
| Quality of hot spring | Hot spring with a hypotonic low alkaline level |
| Benefits | Nerve pain, muscle pain, joint pain, frozen shoulder, motor paralysis, stiff joints, contusion, twisted joint, chronic digestive diseases, hemorrhoid, excessive sensitivity to cold, recovery from illness, soothing effect, health enhancement, gout, arterial sclerosis, high-blood pressure, chronic cholecystitis, cholelithiasis, chronic skin disease, and women's diseases. |
Spa -Raran-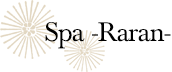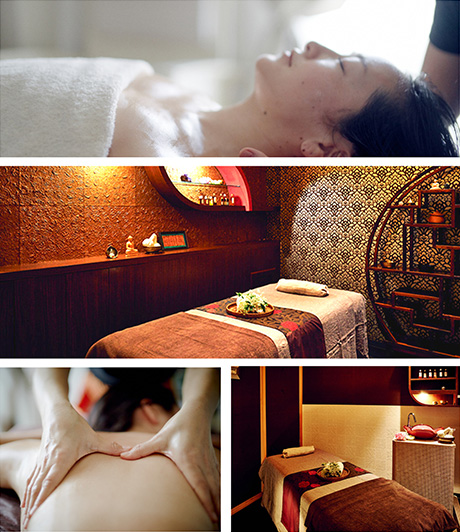 Spa Raran makes you and your life more BEAUTIFUL.

Ayurveda Therapy

・Rejuvenation and cleansing treatment.
・Detox for body and spirit, and restoration of the body's natural balance.
Ayurveda is a genuine form of therapy based on traditional medicine. While you are being soothed by the finest medicinal herbal oils, a therapist provides the ultimate in healing using techniques from Sri Lanka, one of the homes of Ayurveda. Let us help you feel more refreshed than you have ever felt before...

Ayurveda

* We will select the oils which suit you best.

This discount is offered only on full body care courses for groups of 2 people or more.
Full Body Standard Course 95 minutes 2,000 yen discount per person
Full Body Short Course 65 minutes 1,000 yen discount per person

2,000 yen discount off the total price of whole-body care and face care course.

Make a reservation at least 7 days in advance, and receive a 10-minute extension.
* This extension is limited to Ayurveda courses that cost 10,000 yen or more.


* This cannot be used in combination with the above discount or other coupons.
[Whole-Body Care]
Standard Body Course
95 minutes
20,000 yen
(Tax is excluded)
Short Body Course
65 minutes
16,000 yen
(Tax is excluded)
Whole body massage, relax while our luxurious organic herbal oils are rhythmically massaged into your body which relieves fatigue, stiffness and improves sleep. The body and mind is lead into a state of true relaxation.
[Face Care]
Face Care Course
45 minutes
11,000 yen
(Tax is excluded)
Facial massage relieves tension in the face muscles and reduces wrinkles and improves skin tone. It also lifts your face line.
Head Care Course
60 minutes
13,000 yen
(Tax is excluded)
Ayurvedic head massage focuses on the head, face, neck and shoulders, the areas most vulnerable to stress and tension. The head massage induces a state of calm and peace.
Face Care Course
35 minutes
8,500 yen
(Tax is excluded)
Using pure herbal oil treatment helps reduce wrinkles and moisturizes the skin. It also gives you a feeling of deep relaxation.
*Extra luxury oil (for Face) +2,000yen
[Back Care]
Head, Back, Neck & Shoulder Course
45 minutes
11,000 yen
(Tax is excluded)
Head and Back Course
35 minutes
9,000 yen
(Tax is excluded)
Ayurvedic back massage to relieve stress and tension.
Removes lower back pain, neck and shoulder stiffness.
[Foot Care]
Foot Care Course
30 minutes
8,000 yen
(Tax is excluded)
Ayurvedic foot massage uses warm herbal oils to revitalize tired feet. This improves blood circulation, reduces swelling and relieves fatigue.
[Private Yoga Lessons in your room]
(Only one lesson a day is available)
By adding yoga to your hot spring and Ayurveda experience, you can achieve better balance of your body and soul.
Start your day with private yoga.
* For details, please inquire directly by phone.

Additional 10 minutes of your chosen treatment

+2,000 yen (excluding tax)
Additional 10 minutes for a different treatment

+2,500 yen (excluding tax)
Rank-up oil (Skin beautifying oil for face)

+2,000 yen (excluding tax)
Synchro Double Hand (whole-body course only)

+3,000 yen (excluding tax)
A simultaneous massage by 2 therapists using warm herbal oils which nourish the skin and lead the body and mind into true relaxation.
(Please book a day in advance as we can not guarantee treatment on same day bookings.)