Offering you "Luxurious time in grand nature" and "Great authentic food"
Wishing to be "The beloved ryokan"
Policy
We do not accept children under the age of 6 and smoking is permitted only in a designated area.
Please make yourself at home in Suisen.
Services

1.Smiles

Our customer service starts with a smile.
2.Ensure Privacy

Our staff will not enter your room without your permission except when: taking you to your room after checking in and laying out your futons (Japanese-style bedding) in a Japanese-style room. We do not fold up the futons if not requested.
Lobby

1.Lobby

Coffee, tea, and other drinks are available all day long.
Please enjoy our organic coffee.
2.Non-Smoking

Smoking is permitted only in the outside terrace (an ashtray is provided). Please respect our non-smoking policy.
Guest Rooms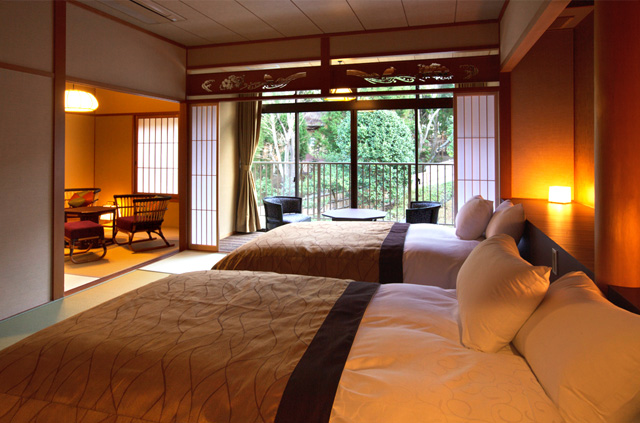 1.Guest Rooms

You can sleep on a bed in Japanese-style (tatami mat) room. Some guest rooms have a private open-air bath.
2.Bed

Simmons' pocket coil mattress and a feather pad promise you a good night's sleep.
3.Tea Set

You can enjoy coffee, tea, Japanese tea, and other drinks with stylish ceramic ware.
4.Amenity

We provide L'occitane bath amenities (Citrus Verbena Series) from France including shampoo and conditioner.
Food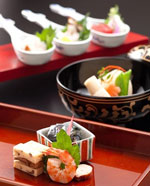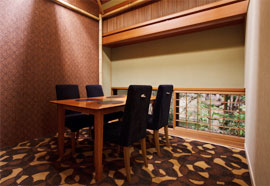 1.Serve Warm Food Warm and Cold Food Cold

To serve warm food warm and cold food cold, we ask you to dine in the private dining room "Ukon" or "Sakon" near the kitchen on the first floor. Please enjoy our head chef's special Japanese cuisine.
2.Local Ingredients

The ingredients used by our ryokan kitchen are carefully selected from local area as well as from all over the country.
3.Restaurants

Please enjoy our meal served at the private dining room in a peaceful atmosphere.
4.Drinks

Our head chef carefully selects drinks such as sake, shochu, wine, and soft drinks that go well with Japanese food from our local area, all over the country, and throughout the world.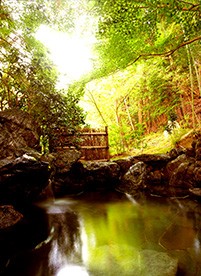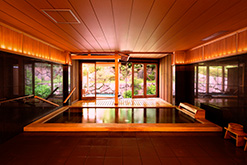 Hot Spring

1.Lighting

The lighting is darker in our hot spring baths in order to make you relax and unwind.
2.Towels

We provide our guests soft Superior Pima cotton hand and bath towels.
3.Special towel

In addition to normal face towel and bath towel, we provide you a special towel used ribbed fabric at our large bath. The towel has good texture and quality, and the size is thinner and longer than a normal towel.
4.Private bath

The open-air bath in the outside garden gives you a complete relaxation in a private atmosphere (with charge).
* No amenity such as body soap or shampoo is available. You can only use a shower here.
Others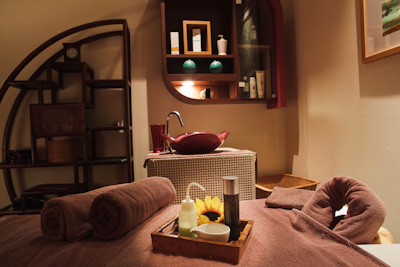 1.Yukata

You can choose Yukata and Obi (belt) you like at the lobby.
2.Spa Raran

There is a spa on the first floor. You can try Ayurveda (an ancient healing practice from India) with Raran's original oil. This treatment will guide you to a state of complete relaxation.